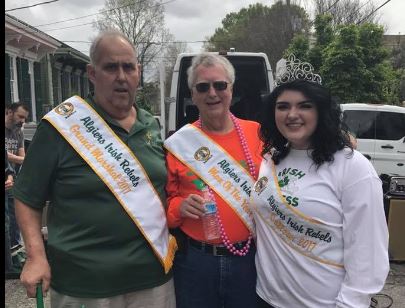 Congratulations to our 2017 Grand Marshal and Colleen


Rody Landry and Shae Michelle Favrot



---
Congratulations to our 2017 Man of the Year
Gary Laigast

---
Safety harnesses are required for all riders - riders are responsible for obtaining their own safety harnesses. This is a requirement of the City of New Orleans. Failure to have a harness could delay the parade and have riders removed from the float by local inspectors.

Sec. 34-24.
Safety
precautions.
In all parades there shall be:
(4)
Safety belts.
All floats shall be equipped with sufficient
safety
belt eye bolts, or their equivalents, securely fastened to the body or framework of the float and of enough strength to support each individual float rider.
a.Each individual float or minifloat rider shall wear a
safety
belt or
harness
which, in turn, shall be attached to a
safety
belt eye bolt or its equivalent as described above.
b.In addition to any other penalties specified in this chapter, violations of this section shall subject the offending float rider to removal from the float.
http://library.municode.com/HTML/10040/level3/PTIICO_CH34CAMAGR_ARTIVFL.html#PTIICO_CH34CAMAGR_ARTIVFL_S34-24SAPR
NOFD approved.

Plush Appeal: $21.95 - mention the club and you should receive a 10% discount.

Apollo Marine Specialties: 4227 Royal St, New Orleans, LA 70117 (near Poland Ave.) - Made in the USA (made in New Orleans) about $16.00

Parade Route Map 2017
Parade will start at Tchoupitoulas and Jefferson - will take Jefferson to Magazine - Magazine to Jackson
Disband on Jackson Ave.